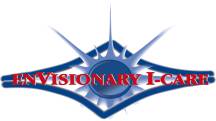 Our Mission
In 2001, we launched EnVisionary I-Care with a vision to help the community by providing training for employment in the health care and infomation technology industries.
The goals of EnVisionary I-Care is
•Develop and maintain health information systems and registries to help address health care employment disparities among unemployed and underemployed
•Develop and create science technology engineering math (STEM) educational tools, methods and strategies.
•Promote diversity in corporate America create more opportunities for qualified americans to reduce unemployment and negative health effects.

Envisionary I-Care is a medical and information technology integration firm that has delivered world class solutions for 15+ years in education, training, and services. Dedicated to the promotion of education in the computer information technology and health information technology.

Clients List:

Duke Hospital, University of North Carolina Hospitals, Blue Cross Blue Shield, Wake Human Services, Fidelity, EDS, Private Physicians Practices in Durham, Raleigh, Wake Forest, Charlotte areas, Novant Health, CVS Pharmacy, US Department of Labor, and other allied health care facilities
Director of Health Information Technology
Yvette Kennedy, OD, CPC,CMRS, CPC-I
Dr. Kennedy is also an Professional Certified Medical Coding Instructor who's diverse background includes health, education, training for employers, community members and local colleges , e-Learning curriculum development and production. Her unique qualifications and broad mind combined with her ability to take control exemplifies the versatility needed in today's medical, educational, and technology environment. She obatined her Bachelor of Science and Doctor of Optometry from the University of Houston
"Testimonials from our clients"